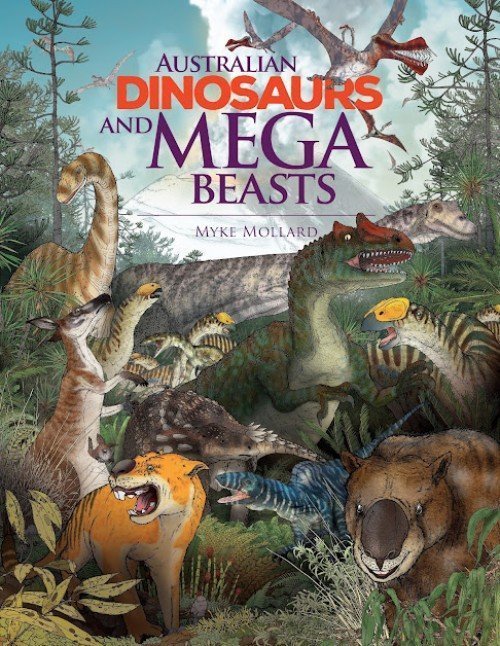 Have you ever wondered about the dinosaurs and mega beasts that once roamed Australia? What creatures were they? Where did they live? What fossils have been found across the country?
Australian Dinosaurs and Mega Beasts is a (literally) mega book, packed full of information and illustrations that take readers on a journey to the past.
Start at the beginning, when life on earth began. Move through different eras and learn about the dinosaurs that called the lands of Australia home. Crocodile-like lizards, longnecked giants and river beasts.
And when the dinosaurs were all gone, explore what came next. Did you know that big, bigger and giant ancestors of kangaroos, wombats, emus and all manner of Australian animals once roamed the country. These mega beasts filled our ancient forests, swamps and grasslands for millions of years.
This book is packed full of information, but it's delivered in a really accessible and kid-friendly way. The layout encourages page turns and information is delivered in bite-sized chunks, making it easy to dip in and out with ease.
One of my favourite parts? The sizing charts that show you just how big some of these creatures were compared to people, and how they evolved over time.
The illustrations are glorious — deep colours, intricate details, and there are just so many. They fill each giant page with giant beasts, and they make the reading experience something truly special.
The end papers are stunning as well. They include a map of Australia and a brilliant overview of the famous fossil discoveries that have been made across the country. It's truly fascinating and a great way to start this information journey.
If your kids love dinosaurs (if you love dinosaurs!), you need to check out this book. Packed full of addictive beastly information and lavishly illustrated, it's the book you have to have if you want to know about ancient animal life in Australia.