Goodnight Moon: A Timeless Bedtime Classic for Children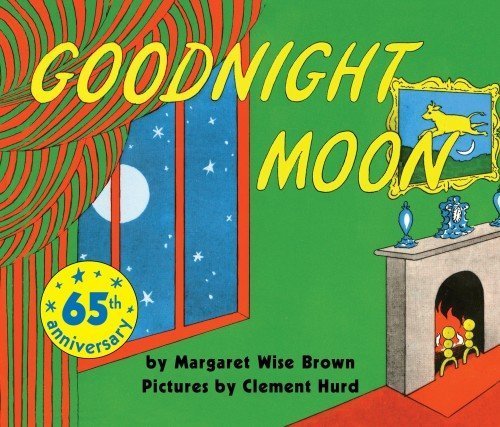 Introduction:
Reading to children from a young age is crucial for their cognitive development and language skills. It's never too early to introduce books to your little ones, and as they grow, their reading tastes and abilities change. In this blog post, we've curated a list of six must-read children's books that are perfect for children from birth to five years old. These delightful stories will captivate their imaginations, foster a love for reading, and create lasting memories.
"Goodnight Moon" by Margaret Wise Brown: This classic bedtime story has enchanted generations of children. Its rhythmic prose and soothing illustrations make it a perfect book to read as part of a bedtime routine. Join the little bunny as he says goodnight to all the familiar objects in his room. "Goodnight Moon" is a timeless tale that will lull your child to sleep night after night.

"Goodnight Moon" by Margaret Wise Brown is a beloved children's book that has captured the hearts of millions of readers since its publication in 1947. This timeless bedtime story has become a staple in many households, providing comfort and enchantment to children all over the world.

The book's gentle and rhythmic narrative follows a young bunny as he prepares for bed. From the cozy confines of his room, the bunny bids goodnight to various objects and creatures around him, including the moon itself. The simple yet captivating prose creates a soothing atmosphere, making it an ideal choice for a bedtime routine.

Accompanying the text are beautifully illustrated scenes by Clement Hurd, depicting the bunny's room and its surroundings. The muted color palette and soft lines create a sense of tranquility and warmth, enhancing the book's calming effect.

"Goodnight Moon" has a mesmerizing quality that captures the attention of young children. The repetition of the objects being bid goodnight, such as the "comb and brush and bowl full of mush," creates a familiar and comforting pattern that children quickly embrace. The book also introduces early language skills as children learn to identify various objects and associate them with their names.

One of the reasons "Goodnight Moon" has endured for generations is its ability to create a sense of security and routine. The act of saying goodnight to the objects in the room mimics a familiar nighttime ritual, reassuring children and helping them transition from wakefulness to sleep. It has become a cherished part of many families' bedtime routines, forging lasting memories and a sense of comfort for both children and parents alike.

Margaret Wise Brown's "Goodnight Moon" continues to captivate young readers with its simplicity, beauty, and timeless appeal. It's a book that transcends generations, bringing a sense of peace and wonder to children as they drift off to sleep. Whether it's read aloud or enjoyed independently, "Goodnight Moon" remains a must-read classic that holds a special place in the hearts of children and parents throughout the years.

"The Very Hungry Caterpillar" by Eric Carle: "The Very Hungry Caterpillar" is a beloved book that introduces children to the wonders of nature and the life cycle of a butterfly. With its vibrant illustrations and die-cut pages, this story follows the journey of a caterpillar as it munches its way through various foods before transforming into a beautiful butterfly. It's a delightful and educational read that teaches counting, days of the week, and healthy eating habits.

"Where the Wild Things Are" by Maurice Sendak: This imaginative tale takes young readers on a wild adventure. Max, a mischievous boy, is sent to his room without supper. But his room magically transforms into a forest, and Max finds himself sailing to an island inhabited by wild creatures. "Where the Wild Things Are" encourages children to embrace their imagination and reminds them that love and comfort await them at home.

"Brown Bear, Brown Bear, What Do You See?" by Bill Martin Jr. and Eric Carle: This colorful picture book introduces children to a variety of animals and colors. Through repetitive text and bold illustrations, young readers will eagerly anticipate turning each page to discover the next animal and its color. "Brown Bear, Brown Bear, What Do You See?" is an engaging read-aloud experience that helps develop language skills and visual recognition.

"The Snowy Day" by Ezra Jack Keats: "The Snowy Day" is a heartwarming story that follows Peter, a young boy, as he explores a winter wonderland right outside his door. With simple yet evocative illustrations, this book captures the joy and excitement of a child's first encounter with snow. Peter's adventures will resonate with young readers and inspire their sense of wonder.

"Oh, the Places You'll Go!" by Dr. Seuss: This inspiring book by the beloved Dr. Seuss is a celebration of life's adventures and possibilities. With its whimsical illustrations and poetic rhymes, "Oh, the Places You'll Go!" encourages children to dream big and overcome challenges. It's a perfect book to share with your child as they embark on their own journey of growth and discovery.
Conclusion:
Reading is a wonderful way to bond with your child and ignite their imagination. The six books mentioned above are timeless classics that have stood the test of time and continue to enchant young readers. From the soothing words of "Goodnight Moon" to the imaginative world of "Where the Wild Things Are," each book offers something unique and valuable for children from birth to five years old. So, grab a cozy spot, snuggle up with your little one, and embark on an adventure through these must-read children's books.