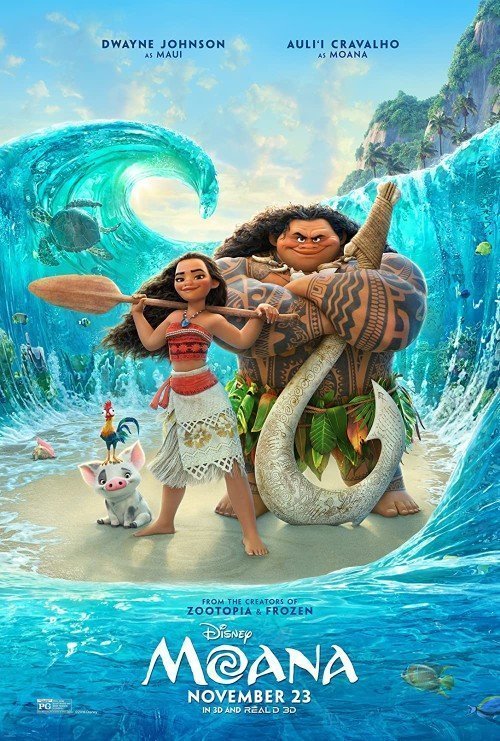 Moana is a 2016 American animated musical adventure film produced by Walt Disney Animation Studios. The movie tells the story of Moana, a young woman from the island of Motunui who sets out on an impossible journey to save her people and discover the truth about her heritage.
The movie is directed by Ron Clements and John Musker, who also directed other Disney classics such as The Little Mermaid and Aladdin. The film features an all-star cast, with Auli'i Cravalho as the voice of Moana and Dwayne Johnson as the voice of Maui.
One of the most striking things about Moana is its stunning animation. From the lush tropical landscapes to the intricate designs of the characters, the animation is nothing short of breathtaking. The use of vibrant colors and detailed textures bring the world of Moana to life in a way that is truly immersive.
The movie also boasts an impressive soundtrack, featuring original songs written by Lin-Manuel Miranda, Opetaia Foa'i, and Mark Mancina. The songs are catchy and memorable, with a mix of traditional Polynesian rhythms and modern pop influences. The standout song is "How Far I'll Go" which is a powerful anthem of determination and self-discovery.
The story of Moana is a classic hero's journey, with Moana overcoming obstacles and facing her fears to save her people and fulfill her destiny. The movie also deals with themes of identity, heritage, and the importance of preserving tradition. Moana's journey is also a powerful metaphor for self-discovery and the importance of listening to our own inner voice.
One of the most compelling aspects of the movie is the dynamic between Moana and Maui. Moana is a strong and determined young woman, while Maui is a charismatic but flawed demigod. The two characters have a complex relationship, with Maui initially reluctant to help Moana but eventually becoming her mentor and friend. Their interactions are both humorous and heartwarming, and the two actors have great chemistry together.
Overall, Moana is a must-see movie for both children and adults. Its stunning animation, catchy soundtrack, and compelling story make it one of the best Disney movies in recent years. It's a movie that will make you laugh, cry, and feel inspired, and it's a powerful reminder of the importance of following our dreams and listening to our own inner voice.