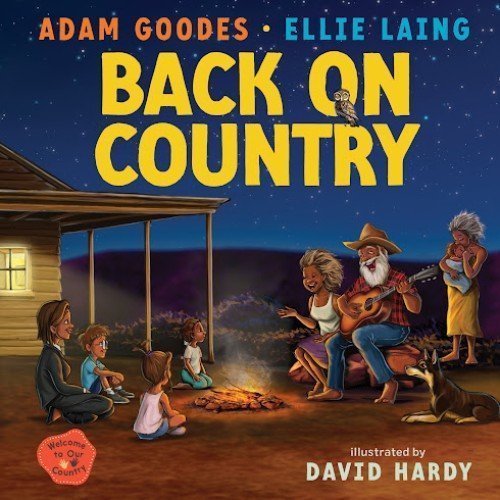 The third instalment in the Welcome to Our Country picture book series, Back on Country is a celebration of family, culture and Country.
In this stunning picture book collaboration between Adnyamathanha and Narungga author Adam Goodes, author and communications professional Ellie Laing and Barkindji illustrator David Hardy, we meet Lucy and David as they travel to see their grandparents back on Country — Adnyamathanha Country.
They meet relatives, visit important family locations and learn about their culture and history, bringing readers with them on the journey. It feels intimate and special, as if readers have been invited on the trip, too.
The story draws on Goodes' and Hardy's own experience of going back to Country — going back to reconnect with the people and places who make us who we are. It's a gentle story, but highly engaging. It's the kind of book that reaches the end before you even realise you've got there, leaving you wanting more.
A wonderful learning experience for kids and their families. A gift of knowledge and learning. With Adnyamathanha language used throughout, the book also introduces kids to new words, backing them up with definitions woven into the story or illustrations. It's a very immersive way to learn. It's invisible and learning that doesn't stop the story at any point. The stunning endpapers also provide support, with Adnyamathanha and English words alongside each other and matching illustrations to help cement ideas.
Hardy's illustrations are stunning, delivered in a funky, engaging style that brings the landscape and characters to life. The colours are rich, bright and welcoming. They are everything that feels like home.
This book (and its series) is powerful and important. Through knowledge we can learn more about Aboriginal and Torres Strait Islander cultures. Through knowledge we can connect with one another. And I don't know about you, but I find stories explored together — particularly picture books — to be the perfect way to share, learn and grow. No matter our age.
This is a great book for classrooms, and it's supported with comprehensive teaching notes provided on the publisher's website. Make sure you check out the other great books in this series, too: Ceremony and Somebody's Land.