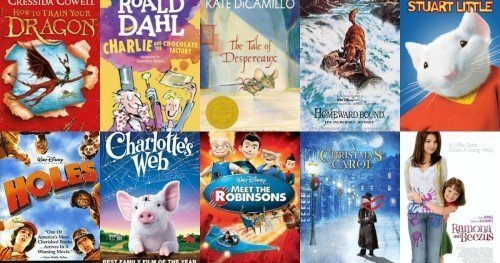 Pinocchio – 1940
Based on:
The Adventures of Pinocchio by Carlo Collodi (1883)
What's it all about?
A wooden puppet who turns into a real boy and is most famous for having a growing nose when he lies and a tiny insect mate.
Any differences?
The book Pinocchio is a bit of a bastard. He kills Jiminy Cricket when he gives him some advice that the boy didn't care for. Bit much.
The BFG – 1989 and 2016
Based on:
The BFG by Roald Dahl (1982)
What's it all about?
A big friendly giant rescues (definitely not kidnaps) a young girl from an orphanage whilst he's out blowing dreams into everyone's heads. Together, they hang out in his cave house and hide from other giants. Normal Friday night.
Any differences?
The '89 film was one of the few to get any praise from Dahl, who was famously unhappy with many of his book adaptations, but that's because it is cartoon perfection. There are very few differences between both films and the original story.
Willy Wonka/Charlie and the Chocolate Factory – 1971 and 2005
Based on:
Charlie and the Chocolate Factory by Roald Dahl (1964)
What's it all about?
A poor boy who has lived on cabbage soup for most of his life finds one of only five golden tickets in existence that permit him and his previously bedridden grandfather (so shady, Grandpa Joe…) to enter Willy Wonka's secret chocolate factory.
Any differences?
Dahl straight-up hated the '71 adaptation because of its wild differences which included huge emphasis on Wonka and turning Slugworth, a minor character, into the film's baddie. The '05 film is truer to the book but slathered with a little extra Tim Burton-ness.
Matilda – 1996
Based on:
Matilda by Roald Dahl (1988)
What's it all about?
A schoolgirl finds out that she has telekinesis and uses it to punish her selfish parents and her cruel headmistress until her sweet teacher adopts her.
Any differences?
In the book, Matilda never goes into Miss Trunchbull's house, but in the film, she breaks in twice. Can't make a kid's film without a little breaking and entering. Also in the book, her brother is a normal boy whereas the film shows him as a bully.
The Chronicles of Narnia: The Lion, the Witch and the Wardrobe – 2005
Based on:
The Chronicles of Narnia: The Lion, the Witch and the Wardrobe (1950)
What's it all about?
The children travel through a wardrobe and find themselves in the mysterious world of Narnia. There they must fight an evil queen and her army of mythical creatures to save a talking lion and his worshippers. Let's have some Turkish Delights first, though.
Any differences?
The bit with the frozen river where the icy waterfall melts and the kids and the beavers sail on a chunk of ice was made up for the film. Seriously, who comes up with this stuff? Let's be besties.
Coraline – 2009
Based on:
Coraline by Neil Gaiman (2002)
What's it all about?
A young girl finds a mirrored world behind a door in her new house where her Other Parents live. They appear to be an even better version of her real parents until the Other Mother reveals her desires to sew buttons on Coraline's eyes.
Any differences?
Coraline's friend, Wybie, only exists in the film. He was invented so that Coraline wouldn't have to talk to herself all the time like she does in the book.
Harry Potter – from 2001 – 2011
Based on:
The Harry Potter series by J.K. Rowling (from 1997 – 2007)
What's it all about?
A boy finds out from a giant that he's a wizard. He then goes to a magical school where him and his mates spend most of the term fighting a dark lord who, for some reason, doesn't have a nose.
Any differences?
J.K. Rowling was hugely involved in the creation of the films but there are still differences that fans have NOT taken lightly to. Harry's eyes in the book are green, as are his mother's, whereas in the film, they're blue and brown respectively. Not such a big deal if people didn't keep bloody going on about how he has his mother's eyes throughout the entire film.
One Hundred and One/101 Dalmatians – 1961 and 1996
Based on:
The Hundred and One Dalmatians by Dodie Smith (1956)
What's it all about?
There's these dalmatians, 101 of 'em, and this evil woman wants them to make a coat from.
Any differences?
Pongo the dog is with another female dog, Missis, in the book. They have puppies but can't care for them so they get another female, Perdita, to help. In the film, there is no Missis.
The Wizard of Oz – 1939
Based on:
The Wonderful Wizard of Oz by L. Frank Baum (1900)
What's it all about?
Dorothy finds herself in the technicolour world of Oz, inhabited by munchkins, witches and horses of a different colour. She makes friends with a brainless Scarecrow, a heartless Tin Man and a cowardly Lion on her way to visit the wizard who she hopes will help her get home.
Any differences?
In the film, Dorothy's trip to Oz was just a dream, but the book shows it as a real adventure. Also in the book, her ruby slippers are silver and the reasons why the Scarecrow, Tin Man and Lion are without brains, hearts and courage are revealed.
Mrs. Doubtfire – 1993
Based on:
Madame Doubtfire by Anne Fine (1987)
What's it all about?
A dad is restricted from seeing his children so he does what every normal person would do: dresses up as an old woman and applies to be the kids' nanny.
Any differences?
Not loads, the main one probably being that the kids, Lydia and Chris, know from the beginning that Madame Doubtfire is their dad in drag. Y'know, like literally every other person probably would too.